COVID-19 Update Archive


COVID-19 update 29 May 2020
Update 15
Slowly but surely many more school routines are starting to return which is great.
Students are practicing for winter sport, engaging in learning and assessments are being sat. These are exciting times. However, we cannot be complacent. It is important we continue following Health and Safety mechanisms to ensure we keep Covid-19 at bay so students feel physically and mentally safe at school. Because of this we will be continuing abiding by the following mechanisms for the remainder of this term:
Beginning of school form times every day
Hand sanitizing at entry and exit of every class;
Spaced seating in classes;
Physical distancing encouraged at break and lunchtime;
No use of school drinking fountains (please continue to have children bring a drink bottle)
Virtual Year level assemblies
Staggered finishing at the end of the day ie:
Year 9 and 10: finish at 2.50pm
Year 11-13: finish at 3pm
These are minor changes in our 'old' routines, which become the 'new' routine, to ensure we can all feel a little bit safer.
Parent Survey
We would like to gather your voice to help us learn from whanau experiences during the lock-down period. It will have the added benefit of providing a useful summary to assist us if we ever find ourselves having to return to Alert Level 3 or 4.
Please take a few minutes to complete the survey here: Survey
Parents Visiting School
A reminder the Ministry of Health have advised ALL visitors on our site, which includes parents and caregivers, must sign in at the register located at the front office while we remain in Alert Level 2. Please record your name, date, time in and out, where they visited and phone and physical address. This information is important for the process of contact tracing, should it be required to track down and prevent the further spread of COVID-19.
This includes if you are just 'dropping off' lunch, a drink bottle, an EFT-POS card, a pair of shoes etc. Please support us in all we are doing, by doing your part.
I wish all our families an enjoyable Queens Birthday weekend.
Nga mihi

Dionne Thomas
Principal


COVID-19 update 20 May 2020
Update 14
Many times this week I have been asked am I happy to have the students back, my answer - ABSOLUTELY! Schools are just a bunch of buildings without students. Students are the life and heart of our school and it has been so heartwarming to have their presence back. The chat, the laughter, the screeching and the yelling are what makes our school a special place.
Students and staff have been taking the time to reconnect, wellbeing has been supported and learning has begun to be incorporated back into student's routines. Our 'new normal' is being imagined.
We will continue the following Health and Safety support mechanisms to ensure students feel physically and mentally safe in returning to school:
Daily beginning of school form times NB: Wednesday Formtime is 9am, every other day is 8.35am;
Hand sanitizing at entry and exit of every class;
Spaced seating in classes;
Physical distancing encouraged at break and lunchtime;
No use of school drinking fountains (please continue to have children bring a drink bottle).
As with all good Health and Safety practices we have been reviewing these daily and we have reviewed our Year Level assemblies. While we were able to 'physically distance' seat the students, so they were not touching or 'sharing breath', having over 200 in one space meant when they were leaving the area they were inevitably going to touch. Therefore, these will now be replaced with an additional form time and the Dean or SLT will Zoom in with collective messages.
Students not attending yet
A small group of children and their whanau have made an informed decision to not yet return to school. All of these are on a case by case basis, due to high health needs, compromised health or anxiety. As a school we respect these decisions and hope to see you back soon. If these whanau can continue to keep communicating with teachers and the office around their absence and intended return to school we would appreciate it.
Pink Shirt Day
Celebrated annually around the globe, Pink Shirt Day began in Canada in 2007 when two students took a stand against homophobic bullying, after a peer was bullied for wearing a pink shirt. In Aotearoa, Pink Shirt Day aims to create schools, workplaces, communities and whānau where all people feel safe, valued and respected. We will celebrate Pink Shirt Day on Friday 29 May with a Mufti Day where all students can wear mufti if they are wearing a clothing item that is pink. A gold coin donation will be collected in formtime and this will go to the Mental Health Foundation. #ProudlyHastings
Parents Visiting School
Some schools nationally have fiercely restricted parent access to schools ie: NO parents on site. We did not want to do this as we believe Karamu is school where we welcome whanau. However, the Ministry of Health have advised ALL visitors, which includes parents and caregivers, must sign in at the register located at the front office, recording name, date, time in and out, where they visited and phone and physical address. This information is important for the process of contact tracing, should it be required to track down and prevent the further spread of COVID-19.
This includes if you are just 'dropping off' lunch, a drink bottle, an EFT-POS card, a pair of shoes etc. Please support us in all we are doing, by doing your part.
I wish all our families continued strength and safety as we travel this new path.
Nga mihi

Dionne Thomas
Principal


COVID-19 update 15 May 2020
Update 13
Welcoming all staff and students back to school
We hope Update 12 gave assurance all staff and students it will be safe when returning on site. However, checking on student's wellbeing is the first and most important job staff will do. We acknowledge the time it will take for children and staff to reconnect and relax will be different for everyone. Wellbeing needs to be addressed before learning will happen.
The support mechanisms we will be using to ensure students feel physically and mentally safe in returning to school are:
Daily beginning of school form times for week one (as the Form Teacher is a key person is your child's learning journey)
NB: Wednesday Formtime is 9am, every other day is 8.35am
Any student showing signs of concern (upset, anxious, scared etc) will be supported by their Year Level Dean
Mr Mark Rolls the SchoolCounsellor is always available to assist students
The Senior Leadership Team of Mr Wayne Wooster, Mr Damien Hollands and Mr Aron Noble will support all layers of staff
We acknowledge this next step in our journey may be exciting for some, but create anxiety for others, but by returning to school we hope the following happens:
Children get to see their friends, their teachers, their classrooms, the school grounds. We will give them time to reacquaint themselves with these aspects but plan to do it in safe physical distancing ways;
Students will be confronted with many changes. They will need to learn new routines but be comforted by the old ones like their subject timetable, when lunchtime is etc.
Our usual expectation of wearing our uniform with pride will return, but we appreciate we may need to be a little relaxed about haircuts for awhile to take stress off families waiting for hairdressers to get up and going ???? ;
Distracting children from things they find distressing is important. While acknowledging children's sadness, fear or anxiety activities in class allow us to gently move to another activity;
Making plans, talking about the future, and discussing new possibilities are also part of healing and moving forward in a positive way;
Children need to get outside at break or get fully involved in Physical Education classes because games, physical challenges, and getting outdoors can release energy and tension as well as provide a break from indoor activities but, of course, these must be done within current limitations;
Children look to trusted adults to know how to respond and how to construct their personal narrative of events. Staff acting in a calm but empathetic manner models that we can still choose how to talk and behave despite all we have been through.
(Adapted advice from Professor Carol Mutch Education Commissioner for UNESCO New Zealand, a researcher in disaster response and recovery)
Self-help tools
Your child may need additional help in the future, and we encourage these tools:
SPARX is a computerised self-help program for children aged 12-19. Research has found that SPARX helped children who were feeling down, depressed or anxious to feel better. SPARX is unique as it incorporates a fantasy setting with the use of graphics and customized playing design characters. Children reported that they found SPARX to be very helpful, and they learnt self-help skills in order to feel better. Your child can use SPARX as well as getting other types of help.
Aroha is a chatbot to help young people with practical evidence-based tools for managing stress and practical ideas to maintain social connection, and to stay active and well through youth-friendly digital activities.
Free call or text 1737 any time, 24 hours a day if you are feeling anxious, depressed or just want to talk through your feelings. You'll get to talk to (or text with) a trained counsellor.
Mr Marks Rolls – our school counsellor is available to any student or whanau through his email

[email protected]
NCEA Changes
We are pleased to advised the Ministry of Education and the New Zealand Qualifications Authority (NZQA) have advised a series of changes to NCEA this year in a two-step process designed to help mitigate the impact of COVID-19.
The changes, effective immediately, are to:
delay external NCEA and New Zealand Scholarship examinations so they start on 16 November instead of 6 November, allowing additional time for teaching, learning and internal assessment in Term 4. Examinations will now finish on 9 December 2020. An amended examination timetable will be available on NZQA's website soon.
extend the submission date for subjects that require students to submit a portfolio, such as Design and Visual Communication, from 28 October to 12 November 2020, giving students more time to prepare
waive the requirement for NZQA verification of Level 1 and 2 Visual Arts portfolios, allowing students more time to complete their portfolios and teachers more time for marking.
Secondly, the Ministry of Education and NZQA will consider how to address equity issues arising from the disruption caused by Covid-19. They recognise that students, teachers and schools are affected in different ways by COVID-19, and it's important to provide a fair opportunity for students to achieve NCEA this year. We will update you when these changes are finalised.
Bus information
As we need to be able to contact trace our students using the bus, we must have up to date lists each day. A roll will be taken each morning and afternoon as the buses arrive and depart. Students must get their name signed off once they get off and on the bus at school.
Nimons and WBL (Waipawa Bus Limited)
Passengers must remain seated and not move from seat to seat. On the WBL run numbers can fluctuate and there may be occasions where passengers may need to stand.
Both providers would prefer tickets to be purchased through their offices:
WBL: manually over the phone with credit card or by going to their Manchester Street office).
To further reduce the handling of cash WBL Frederick Street pick ups (1:00 coin fare) will be temporarily stopped.
Nimons: can pay for tickets over the phone or via internet banking.
The bus driver will then hold the tickets for these passengers.
Note: The drivers will still have tickets to purchase if necessary.
Go Bus: https://www.gobay.co.nz/ have information regard their services here
Any questions in regard to bus services can be answered by calling or emailing the bus services directly.
WBL Ph: 870 8740. email: [email protected]
Nimons Ph: 06 877 8133 ext 829 [email protected]
Go Buses Ph: 8789250
Getting ready to return to school
After spending the last 7 weeks at home children will need some support in being ready to return to school on Monday. Please work with them over the weekend to ensure they have a positive return on Monday by completing this checklist:
All Uniform items clean (including shoes)
Device charged
Books for Monday
Pens, pencils, ruler, calculator (as they will not be able to share stationary)
Lunch packed (as the canteen will be only offering a limited amount of hot items)
Filled drink bottle of water
PE gear if required
Leave home in plenty of time to be at school by 8.30am for an 8.35am start
Staff are looking forward to supporting students in their return.
As we take steps in this new direction, we learn to value what is precious and to face the future with renewed hope.
Should you have any questions around your child's return please make contact with us.
Enjoy the weekend with your family and friends.



Dionne Thomas
Principal


COVID-19 update 12 May 2020
Update 12
Kia ora koutou katoa
A decision has now been made that we will move to Alert Level 2 at 11.59pm on Wednesday 13 May.
School's however, were always to be given a weeks' notice and so we will open on Monday 18 May. It is expected all students will return to school unless:
A member of the household is unwell with Covid-19;
Your child is unwell with any of the symptoms of Covid-19.
Should your child not be attending school because they are unwell you must advise the office by phoning the School Absence Line on 8706143 giving the reason.
We have been advised for students who have a household member who is at-risk due to serious illness or if they themselves are at risk, there is no reason for them not to return to school. The public health measures we have deployed will minimise risk. If you have a child who might be vulnerable to serious illness and would like to discuss a 'return to school' plan for them, please contact me as soon as possible.
The key controls for schools to re-open under Covid-19 Alert Level 2 are:
ensure people with COVID-19 symptoms or feel generally unwell stay away from school;
maintain physical distancing (in schools this means children, young people, and staff maintaining a physical distance so that they are not breathing on or touching each other);
enable good hygiene practices;
keep track of people that enter school.
Our Health and Safety measures we are putting place are:
Preparation
We will start each day next week at 8.35am with a formtime outlining all these Health and Safety guidelines;
Drinking fountains have been decommissioned so please bring bottled water from home;
Students will be lined up outside every classroom to minimize the contact on door handles. If a door can be propped or wedged open it should be.
Inside the classroom
Classrooms will be set up in exam style seating where possible, creating 1m spacing;
Marking of attendance has never been more important for contact tracing. Students must arrive at school on time and if they need to leave during the day they must sign in and out at the Office;
Each time a student enters and exits the room they need to use the hand sanitizer provided;
Practical equipment used in the likes of physical education, science and technology must be cleaned between each use.
Co-Curricular
Sports (on school grounds) – physical activities including can go ahead. Physical distancing is not possible in some sporting activities, so in these situations extra emphasis on handwashing and drying (or cleansing with hand sanitizer) before and after activities and regular cleaning of equipment is very important.
Cultural activities - practices and rehearsals will be able to go ahead (a physical distancing recommendation of 1m distance where practicable, for singing and wind instruments).
For sports and cultural practices that use external coaches they must sign in the visitors register at the front of school (for tracking and tracing purposes).
Outside the Classroom
Each set of student toilets is currently having its fabric handrolls being replaced with hand dryers;
Year 13's can continue to use their Study to arrive after P1 and leave for P5 but they are NOT to leave the premises at any other time;
Queues at the school office and the canteen will be clearly marked using 2 metre spacing on the ground/walls;
Students are encouraged to sit 1m spaced at break and lunchtime;
Only 6 students will be able to sit at the tables around the canteen;
Contact tracing has implications for break and lunchtime. We will be asking students to consider keeping their own record of who in addition to their classmates, they were in 'close contact' with each day (as they would need to do for other close contacts they had in their personal time).
Assemblies will go ahead however, because we need to maintain sufficient distance between students, so they aren't touching or breathing directly on each other, they will be only Year level. So Monday's will be SLT Year Level Assemblies and Friday's Dean's Assemblies.
Parents Visiting School
We will need to record all visitors on site, including parents and caregivers, in the visitor register located at the front office, recording names, date, time in and out, where they visited and phone and physical address. This information is important for the process of contact tracing, should it be required to track down and prevent the further spread of COVID-19.
End of the School Day
The end of the day will be staggered to reduce congestion
- Year 9 and 10: finish at 2.50pm
- Year 11-13: finish at 3pm
Please clear the school site as promptly as possible
Bus services
Our school transport services also plan to return to normal schedules from Monday 18 May. The ongoing safety of our students and the ability to contact trace are a priority on these services therefore, we must provide our transport providers with up-to-date bus lists and keep records to enable contact tracing to take place. We also need to provide certainty for them around numbers intending to use buses.
We therefore must get an accurate picture of who intends to use buses next week to attend school. If your child/ren will be using a bus next week you must complete the bus survey at this link: BUS SURVEY
Please complete by 2pm Wednesday 13 May.
Our bus providers will ensure:
Hand sanitizers will be available for each student to use as they board the bus.
Buses and surfaces will be sanitized after each journey by the transport company.
Seats in close proximity to the driver will be left empty.
If you have any questions in regards to bus services please contact Aron Noble: [email protected]
Health & Well-being
Symptoms to monitor for are any respiratory symptoms such as a cold, a head cold, blocked ears, cough, sneezing, chills and a fever. Anyone with these symptoms should not attend school. If these symptoms are observed children will be kindly and warmly instructed to go to the Office immediately. Home will be rung and they must be picked up as soon as possible.
If we are connected to a confirmed or probable Covid-19 case, we must close for 72 hours. This time will allow for contact tracing and cleaning to take place. We could then remain closed for an additional 14 days.
If a child is self-isolating or can't return to school due to personal or health reasons, remote learning may still be available.
The general advice from the Ministry of Health regarding the widespread use of personal protective equipment (PPE) has been consistent. Members of the public are not required to wear masks or other PPE. This advice carries over to the school setting as well. The information originally set out by the Ministry of Education indicates that in level 2, PPE is not "required or recommended as necessary in any educational facility by the Public Health Service".
In returning to school we are laying new tracks and starting a new journey, while at the same time healing our systems. It is therefore important we take the time to care for all communities while these paths are created. Staff, students and parents can support each other in this process of recovery by being patient, supportive and showing aroha.
By being together in this crisis we will emerge stronger together after it.
Should at anytime you have queries or questions please do not hesitate to contact us.
We are all in this together, he waka eke noa.  
Arohanui

Dionne Thomas
Principal



COVID-19 update 8 May 2020
Update 11
Kia ora koutou
Like me, I am sure you have followed with interest the announcements made by the Prime Minister.
It is reassuring to hear how well our country has done at minimising the impacts of COVID-19. Alert Levels 4 and 3 have not been easy and I thank you for your ongoing support for the work we are doing.
Yesterday, the Prime Minister advised that in Alert Level 2 schools are safe environments for children, young people and staff. Additional public health control measures are in place to prevent the spread of disease and to support contact tracing.
The good news is that when we are able to, we will be ready to welcome all students and staff back to our school site.
The key Public Health approach is to minimise the risk that someone gets infected in the first place, and second to ensure we can identify and contact anyone who has been in close contact with a person, if someone in a school is infected.
As we have done in Alert Level 3, you can be assured that in Alert Level 2 we will know who is at school, who our staff and students have been in close contact with and take appropriate measures to keep everyone safe.
Physical distancing is a good precaution to prevent the spread of disease. We do however know it is challenging in schools, so good hygiene practices and regular cleaning are even more important here. This includes staff and students coughing into their elbows, handwashing and drying and regular cleaning of commonly touched surfaces.
Under Alert Level 2, we advise any students and staff to stay at home if they are sick, and we will send anyone home immediately if they show any symptoms.
Our school has safe and sensible practices to maintain the health and safety of everyone on the school site. As described by Dr Payinda in his NZ Herald article, "Covid's not measles or chickenpox, it doesn't hang in the air for hours waiting to infect passers-by. It travels on invisible drops of spit. You don't have to cross the street to avoid anyone. Just avoid getting in their 'moist breath' zone". We all just need to remember to have some breathing space at Alert Level 2!
It's important however that not just at school but at home, safe hygiene habits are practised by everyone, as this is essential to minimise the risk that someone gets infected with Covid-19.
For more information about the public health measures at Alert Level 2, you can visit the covid19.govt.nz website: https://covid19.govt.nz/
We are currently developing our health and safety plan for the impending possible Level 2 'return to school', so if you have a child who might be vulnerable to serious illness and would like to discuss a 'return to school' plan for them, please contact me.
We will be in touch again soon to update you on our plans.
Ngā mihi

Dionne Thomas
Principal


COVID-19 update 6 May 2020
Update 10
Morena whanau,
A decision about when New Zealand will move to Alert Level 2 will be made on Monday 11 May and the Prime Minister has said that the move to Alert Level 2 would occur with 48 hours' notice. Therefore, the earliest we would see any students returning to school may be Thursday 14 May. However, we are yet to receive the Ministry of Health and Ministry of Education guidelines around what operating safely at Level 2 look likes. We will communicate with you again as soon as a decision is made when we are moving to Level 2.
In the meantime, keep safe, keep calm and focus on one day at a time.
Remote Learning
Staff have appreciated this has been a challenging for students. There has been an upheaval of a personal nature, as well as new learning of platforms (Teams, Zoom, Flipgrid...) and the way students have had to show more independence.
Considering this we would like Monday 11 May to be a student 'Catchup Study Day'. This means:
No scheduled video lessons;
No teacher directed contact, except perhaps a short survey from teachers of how they are finding the learning;
Students can contact teachers for any clarification in the lesson they normally have one.
We hope this will give students some breathing space to refocus and organise their thoughts and processes for this 'last stretch' before we return to school.
NCEA
We appreciate NCEA has been an area of anxiety for our Year 11 – 13 students and during Covid-19 Level 4 restrictions (and now Level 3), many students have made every effort to continue to work towards their NCEA qualifications. Our NCEA students should continue to make every attempt to engage and keep up to date with all remote learning and work presented to them by their teachers.
Teachers continue to focus on:
Student well-being and strong educational relationships;
Teaching and learning;
Prioritizing work and assessments that suit the remote learning environment.
It is important for students to know that the learning and work they are completing now
is preparing them for their assessments when they return to school;
could be used as evidence towards their level of achievement in assessments;
needs to be completed in a manner that meets our agreed authenticity policy.
Students must also ensure milestones are met and assessments are handed in on the due date set by their teachers. If there any questions relating to NCEA please contact Aron Noble [email protected]
Return to School
When we do return to school it is still very important students stay home if sick. Symptoms of Covid-19 include:
a cough
a high temperature of at least 38°C
shortness of breath
sore throat
sneezing and runny nose
temporary loss of smell
These symptoms do not necessarily mean you have COVID-19 as the symptoms are like other illnesses that are much more common, such as cold and flu. However, if you have these symptoms please call Healthline for free on 0800 358 5453 or you call your doctor immediately.
Shortness of breath is a sign of possible pneumonia and requires immediate medical attention.
Students will also be strongly encouraged to continue:
Hand washing and drying
Good cough and sneeze etiquette
Physical distancing
Using hand sanitizer in classrooms and around the school
Career Exploration
Being out of your usual environment and routine can be unsettling, but also a good time for reflection on what your goals and plans are for the future.
You may feel that the world of work is full of uncertainty and instability and in these changing times, it is even more important to continue to develop the skills and knowledge you have in your kete so that you can be flexible and adapt to the changing environment. Think more of the 'bundle of skills' you possess, rather than a job you may do. Continual learning & upskilling will ensure ease of transition between sectors and types of work roles.
Research has suggested: Generation Z (age 10 – 24) are predicted to have 18 different jobs and up to 6 career changes in their working lifetime (CICA, McCrindle)
Although it is difficult to predict, experts believe the evolving workplace will require four areas of expertise:
An aptitude for technology, regardless of discipline;
Creativity and the ability to engage in critical thinking and problem solving;
The need to collaborate in cross functional, interdisciplinary teams;
People skills including: interpersonal communication, flexibility, emotional intelligence, management of self and others and negotiation.
An attitude of continual learning, problem solving with an entrepreneurial mindset is important as we may experience less direct management and more flexible working arrangements.
The following are some tools and websites to help in the process of clarifying your unique skills, qualities, and interests and also to enhance your knowledge of the learning and training opportunities that exist out there.
Career Central – This is our schoolwide career tool we currently use at Karamu. You can find it by logging into www.careercentral.school.nz Karamu students then sign in under 'student login', but parents can also use the 'parent login' (if you know your parent portal details). You select 'Karamu High School' from the drop down. Once on the homepage, there are many activities you can engage in to explore preferences and skills. These can be good to work through together. There is also a career quiz ('Bullseye') to try out and a resource page which covers a lot of topics, including road code practice tests.
www.careers.govt.nz – This is the government funded website which has a lot of information to help with planning your career, job profiles, interactive tools and many other resources
www.eit.ac.nz – the local tertiary provider, in case you are keen to research what courses are available locally and their content and entry requirements
Students are most influenced by parents when seeking and heeding career advice and therefore, the more informed you are as a parent, combined with the knowledge you have of your child, makes for the most meaningful advice for them.
We appreciate this 'change' in direction may have been especially unnerving for Year 12 or 13 students considering transitioning out of school so Mrs Hunter (Careers Advisor) is available to offer any career guidance support by emailing her on [email protected] and you can then arrange a face to face or phone meeting.
Keep safe and be strong, kia kaha

Dionne Thomas
Principal
COVID-19 update 1 May 2020
Update 9
Thank you whanau for all you are continuing to do to keep safe.
Attending School
We only had a very small number of students that needed to attend this week under Covid-19 Level 3. A reminder if your circumstances change and you need to send your child to school from Monday 4 May you MUST notify the school first by either emailing [email protected] or ringing 8787139 between 8.30-3pm. Parents and students cannot enter the school grounds without prior arrangements being made due to the current health and safety requirements needing to be adhered to. Any students entering the school grounds that are not part of a Year 9 or 10 bubble will be asked to leave immediately.
We are yet to be advised by the Ministry of Education when or what attendance at Covid-19 Level 2 will be.
Health and Well-being Support
Fran Bayley our Health Nurse is now back and available for students to contact her by texting 027 534 5649 and she will follow up and support as necessary or if possible.
However, remember all urgent health care issues should be directed to your GP Practice, and Directions Youth Health Centre is still open and operating (including contraception & counselling services) – check their website for information on accessing their services.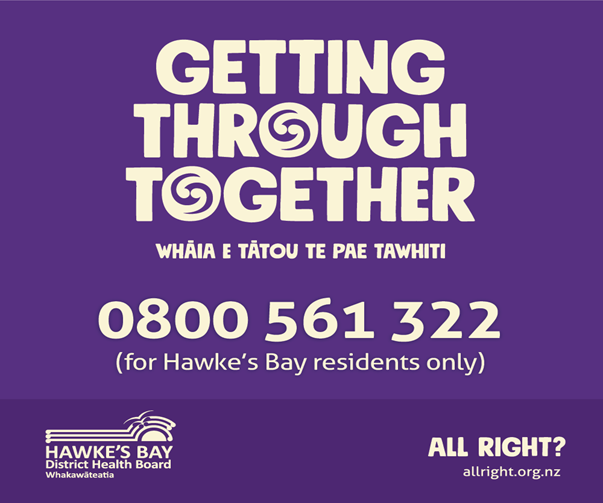 The Hawke's Bay District Health Board have set up a triage number for Hawke's Bay residents struggling to cope with the effects of COVID-19. The number is 0800 561 322. It is available 8.30am to 5pm, Monday to Friday (excluding public holidays). "It is important to note that this is a non-emergency number," says Hawke's Bay District Health Board Nurse Director and Psychosocial Support coordinator, Peta Rowden.
"People with emergency mental health needs should, as always, contact the emergency mental health number (0800 112 334) or, if it is a life-threatening situation, phone 111." People with mental health needs requiring counselling can use the national health number, 1737, which is manned by counsellors 24 hours a day, seven days a week.
The new number is aimed at people struggling with the COVID situation.
"It may be that people are distressed or anxious because of an employment issue, or are feeling cut off from society due to self-isolation, or are perhaps struggling to feed their families." The clinicians answering the call will help by referring the caller to a Hawke's Bay service that can help with their welfare needs, and/or refer them for assistance with their mental health needs. All health boards across New Zealand are required to provide a psychosocial response to their communities.
We wish all our families a safe weekend.
Nga mihi

Dionne Thomas
Principal
COVID-19 update 27 April 2020
Update 8
Thank you to the Year 9 and 10 parents that returned the response form for Covid –19 Level 3. We only have a small number of students that need to attend under Level 3 and we are managing to supervise these students safely under the Ministry of Education and Health guidelines (individual information will be sent to these whanau). If your circumstances do change and you need to send your child to school you MUST notify the school first by either emailing [email protected] or ringing 8787139 between 8.30-3pm. Parents and students cannot enter the school grounds without prior arrangements being made due to the current health and safety requirements needing to be adhered to. Any students entering the school grounds that are not part of a Year 9 or 10 bubble will be asked to leave immediately.
Teacher Only Day – Tuesday 28 April
As has been advertised in the media there will be no remote teaching and learning tomorrow. All staff are involved in either professional development for remote learning or preparing the site for the students returning on Wednesday. We look forward to seeing all students back engaged remotely on Wednesday.
Remote Learning
All Year 9-13 Karamu High School students are continuing with remote learning until otherwise advised, therefore it is very important students engage in this learning. What does this mean?
· Attending any online lessons run by the teacher ie: A Teams meeting
· Completing any set tasks ie: Education Perfect
· Responding to any communication from the teacher ie: Emails, messengers, chats
· Submitting any work that is due ie: Sending in a piece of work

What if I your child does not understand?

· Read the instructions or watch the information together
· Ask 'have they done something similar before'?
· Get them to email or message the teacher for further clarification
· Get them to check with a classmate
· For any further queries around a course please email the Year level Dean.
Year level Deans will be making phone calls home this week for students that have appear to have struggled to engage with the remote learning.
We thank you for your continued support and understanding, we really do feel 'we are in this together'.
Stay safe, stay well.

Dionne Thomas
Principal
COVID-19 update 22 April 2020
Update 7
From next Wednesday 29 April you should only send your Year 9 and 10 child to school if you absolutely need to because your child cannot be supervised. This may be due to all parents/caregivers continuing to be essential workers or beginning as Level 3 workers or being away from your home. Alternatively, if you or your child is sick or has a health condition that means they are at a greater risk of a severe illness, you must keep them at home.

As was the situation when we were last in Level 3, we would expect that there will be a limited number of students who might need to come to school. Those who are here will be supervised in a classroom and they continue with the remote learning currently provided.
In order to ensure the safety of those children and staff who do come to school, we will be operating under the advice and guidance of the Ministry of Education, with strict enforcement of health and safety measures advised by the Ministry of Health. These include such measures as:
Students will be placed in Year level class 'bubble's of no more than 9 students with 1 teacher;
Students will remain in one classroom all day, with desks spaced 2m apart;
Students will have morning tea and lunch breaks in quite limited areas of the school;
If there is more than one bubble at school they will not be permitted to interact;
There will be no access to the gym (including sports equipment), music facilities or the library;
The canteen will not be in operation;
No school buses will be operating;
Any student or staff member displaying respiratory symptoms will be asked not to attend.
If you meet the criteria of having no one to supervise your Year 9 or 10 child during Level 3, or you have decided to keep your child at home, it is essential that you advise us by completing the on-line form ASAP. You must inform us by 4pm on Thursday 23rd April. This will allow us time to make the required staffing and health arrangements.
The link to the response form is https://forms.schoolappsnz.co.nz/form-5403700/
Thank you for your support.
Keep safe, keep well and stay safe
Nga mihi nui


Dionne Thomas
Principal
COVID-19 update 21 April 2020
Update 6
Kia ora koutou
I wish to thank all whanau and students for the positive way they engaged in Week One of Term 2. We can navigate our way through and out of this, but it takes all of us working together to do this. The crisis is affecting all of us no matter who we are. We may all know people that have lost jobs, are ill or are struggling physically or mentally but because we are all in this together, together we will get through. It's ok to be scared, reach out for support and do the right thing to help others. As your school we are here for you.
Yesterday the Government decided that we will move into Alert Level 3 on 28 April. That means we will be open to receive Year 9 and 10 students from the 29 April. We will start to prepare our site from tomorrow.
The key message for you is that if you can, you should keep your child at home. You should only physically send your child to school if you need to.
If you or your child is sick or has a health condition that means they are at a greater risk of a severe illness you must keep them at home. In order to ensure the safety of those children and our staff who do come to school, we will be operating with strict enforcement of health and safety measures.
I want to assure you that we will continue to support your child's learning at home.
We will contact you very soon to find out whether you can keep your child learning from home, or need your child to attend in person. YOU MUST indicate if they are attending or not so we can safely manage the risks.
The Ministry of Education has advised that they are working closely with health officials to develop clear guidance that will support schools to safely re-open their premises to students and staff. This will help us work through the public health requirements that we all need to meet. As you will be doing, we want to be sure that what we do will keep our community as safe as possible.
For now, we will continue to support your child's learning remotely while we progress our planning for what Alert Level 3 will mean for you and for our school. We will be in touch again soon with more information. As you have been doing, please keep connecting with your teachers with any questions you might have.

Stay safe
Nga mihi nui


Dionne Thomas
Principal
COVID-19 update 17 April 2020
Update 5
Thank you once again for maintaining your safety and wellness over the Easter break. We hope you managed to enjoy the autumn sun and some family time. As Term 2 started this week it is timely to connect again and share what we believe is important information. Now more than ever, COVID-19 has shown us how much we rely on each other. It has also shown us that strong connections and resilient communities are critical. A well-resourced and responsive public service can help support these things. We need to build this over the long term to ensure we are prepared and resilient for whatever may still be to come. "We are all in this boat together, let's paddle in the same direction."
School Plans to Open
The Prime Minister is soon to set out timelines for some key decisions that will affect us all. It is the Government's intention that on the 20th of April, two days before the current period of Alert Level 4 is due to finish, Cabinet will decide on whether the Alert Level will change. They will use the most up to date data they have to make that decision.
Level 4 has come with some heavy restrictions and the Government have now given us some guidance on what life at Level 3 may looks like for schools:
Students and workers (including teachers) remain home where they can;
School will only be open to those up to Year 10 if they cannot safely be supervised at home;
Only reduced numbers of teachers will be at school, ie enough teachers to supervise Year 9 and 10s;
Remote teaching learning will therefore continue for all Y11-13s and Y9 and 10s at home.
We will communicate with you in a timely manner when we can welcome back on-site staff and some, if not all, of your children. Because of this, it is important our students embrace the remote teaching and learning that has started formally this week. It may well be that this model, and or a combination with physical school attendance, continues for some time yet. If your child does not engage with the learning this week, we will be making contact home to ask why.
Students Working
It is very timely to acknowledge the contributions students have been making to the essential workforce during the school holidays, including working hard in many of your local supermarkets. I have always enjoyed being served by many of our students, both current and former, with a friendly smile and chat at New World, Countdown and Pak n Save. However, the start of term 2 does signal that students' work hours must return to being outside of school hours only. If you are aware of any employer putting pressure on students to work during school hours, you may wish to advise them that it is unlawful, as Section 30 of the Education Act does not allow this, even during the lockdown period.
Itinerant Music Lessons
Lessons will be resuming this week for students who had previously had lessons. (Unfortunately, we will not be initially starting up lessons for those that have not had lessons before as the virtual learning scenario is not conductive to beginners).
Itinerant teachers are either providing online video lessons using one of several available software programs (ie: Skype, Zoom, Facetime and Whatsapp) and where the teaching method of playing along with the student is not possible they will look at providing recorded backing tracks for them to play with. Other teachers who feel that their teaching would not be possible via video link are providing regular practice schedules and feedback on videos provided by the students. They are also providing music theory worksheets to keep the student's musical learning going. Should any parents have any questions regarding ITM please contact Mrs Amanda Cooper on [email protected]
Cybersafety of Self and Others
We reminded students earlier this week that one of the elements of our schools' Student ICT Use and Cybersafety Agreement is students are not to have any involvement with any ICT activity which might put themselves or anyone else at risk (such as bullying, harassing or demeaning) through the use of ICT. Using images, including personal information such as photos (including those captured or manipulated in video sessions), will be considered a serious matter and may result in consequences as for other behavioural issues. If you have an opportunity to remind your children of the value of respect around ICT use, please do so.
While children are learning from home, they are away from the online safety and security services provided by Network for Learning (N4L) at school. So together with N4L and Netsafe, the MoE have launched www.switchonsafety.co.nz - a free internet safety filter for parents, A way to block the worst of the web for students and teachers. Please follow the instructions to set up your child's device for safer connectivity while they learn from home.
However, remember, no technical solution is a silver bullet, this needs to be complemented with digital citizenship toolkits provided by Netsafe. Netsafe provides comprehensive support and information to support everyone to stay safe as they work, learn and play online. Netsafe has new and updated resources for parents, whānau and students at https://www.netsafe.org.nz/advice/staying-safe/
Home learning television
The Ministry of Education wanted to ensure that every learner and ākonga in New Zealand has an opportunity to access educational content from the beginning of Term 2 (15 April) in a variety of ways. (This would be in support of what our teachers have already arranged for our students)
They have worked with teachers and leaders across NZ to develop Home Learning TV | Papa Kāinga TV, on TVNZ, which will run from 9am to 3pm on school days on TVNZ2+1 and Sky channel 502. Some lessons will also be available on TVNZ On Demand.

There will be content for parents and whānau with preschool children and tamariki, and lessons for those aged 5 to 15 years of age will cover a broad curriculum that includes movement, music, physical education, wellbeing, numeracy, literacy and science through an integrated approach to curriculum.
12.30-3pm content is suitable for our Year 9-11 students.
E noho i tō rāhui - Stick to your bubble
Nga mihi

Dionne Thomas
Principal
COVID-19 update 8 April 2020
Update 4
Thank you for everything you have done, are doing and I know will continue to do for your children, your whanau and the greater good. When we wash our hands, stay apart and stay home we keep everyone well in our whanau and our community.
For those working in essential services – THANKYOU. You are ensuring we can all keep safe, fed and healthy in these unprecedented times.
This situation is bringing out the best in people, showing how well people can pull together and look after each other in a crisis. We are learning new things, connecting new ways and showing new levels of care. Every crisis has a silver lining #ProudlyKaramu.
Key dates reminder
26 March Alert Level 4 commenced
28 March School holidays began
10 – 14 April Easter (includes the Tuesday after Easter)
15 April Term 2 begins (through distance learning)
22 April Current date for ending of lockdown period
27 April ANZAC Day observed
Keeping Safe On-line
Technology is great whether it's for information, learning, keeping connected or for games, music and videos. However, we need reminders about how to keep young people safe in an online world where, unfortunately there are some predators. We encourage you to discuss internet safety with your children - of all ages. Please have some agreement about what they can do online including sites they can visit and appropriate behaviors including:
reviewing and approving games and apps before they are downloaded
reviewing privacy settings of sites and applications
checking children's profiles and what they are posting online
check the sites your child is accessing
reminding children that anything that is posted online will be permanently on the internet
taking the time to understand what sites they are visiting and who they are talking with and check in regularly
some social media sites have age restrictions to join, check these before letting your child use them or join them
monitoring a child's use of the internet and consider having them use it in an open, common area of the house
making sure your children know to report any activity they don't feel comfortable with to parents and caregivers straight away.
Netsafe continues to be available to provide support for online safety. They have information for parents and caregivers and have pulled together a great list of top tips for online safety during the lockdown. To report an incident To Netsafe - Report an Incident
If you think a child in your care is the victim of online exploitation or abuse, report it to Police - if you or a child are in danger or a crime is being committed, call 111 or visit your nearest Police Station immediately.
If we all work together to make sure children are safe online, we can make the internet a great tool for people of all ages.
Feeling Unwell?
Flutracking is an online survey which asks if you have had a fever or cough in the last week and which can help the Ministry of Health track COVID-19. Registering online will help surveillance efforts by providing early detection of community spread of the flu and also of COVID-19 symptoms. They are encouraging people to register online at https://info.flutracking.net/.
This is a practical thing everyone can do to help us monitor flu and COVID-19 symptoms throughout NZ.
Learning Online
From Wednesday 15 April (this is when Term 2 starts) students need to get back into as much of a school routine as possible. What they do now will support their transition back into learning when we return to 'normal'. ????
Teachers will be continuing their communication through email and Teams (as they initiated when we first went into lockdown) and learning will be a combination of self-directed activities and teacher-led sessions.
If staff deliver virtual or video online lessons these will run in the scheduled timetable slot so there shouldn't be any clashes or students choosing one subject over another.
If you do not have access to a device at home, please make contact with Mr Hollands ASAP so we have the most up to date records to advise the Ministry of Education.
At anytime you have any queries around a course or your child has not received contact from a course please email the Year level Dean.
LearnCoach
NCEA online learning tool LearnCoach (which offers video tutorials to help students with NCEA) has been made free during the lockdown. I encourage parents to see whether their Year 11-13 children have checked out this website as a support mechanism to their lessons.
Need Help?
A few reminders of the community mechanisms that are still out there and available:
Nourished for Nil: Are still providing free food @ 1004 Karamu Rd 4-5pm Mon, Wed & Fri
Te Taiwhenua o Heretaunga: Are still providing several health and wellbeing services - https://ttoh.iwi.nz/
Free call or text 1737 any time, 24 hours a day if you are feeling anxious, depressed or just want to talk through your feelings. You'll get to talk to (or text with) a trained counsellor.
Mr Marks Rolls – our school counsellor is available to any student or whanau through his email

[email protected]

Mr Wooster (DP – Students Pastoral) and myself are also more than happy to try and help families in any way we possibly can.

Keep safe, stay strong, til we meet again
E noho oranga, noho kaha, noho ora mai

Mrs Dionne Thomas
Principal
COVID-19 update 27 March 2020
Update 3
Kia ora koutou,
We have started into a new phase of New Zealand's response to COVID-19 and it is very different than anything most of us have ever experienced. I wanted to reassure you that our school staff and Board of Trustees will continue to be available to support your child's learning and wellbeing in the next weeks.
Routine
You will understand the importance of routine for your family. If your routine has been shaken up, like you're now working from home, it's good to structure your time. Routines are reassuring, and promote health and physical wellbeing. Have time set aside for learning, exercise, chores and freetime. A school holiday version will likely look a little different, but some form of routine will still be important as we go through the lockdown period to ensure positive well-being.
There are links below to more well-being information to support your family during the lockdown.
Learning
By now you or your child should have heard from each of their teachers through either email or Teams on Office 365. This was to firstly check they were ok pastorally and secondly to inform them how the online provision for learning would work when Term 2 officially starts on 15 April. Please ensure they have replied back.
This will vary greatly from school to school, from course to course and from level to level as the needs, style of delivery and level of learning varies. As usual we need to encourage students to take full part in their learning and we need to work with you as parents in ensuring that they complete as much set work as possible and maintain their learning. On-line work operates in different ways and it will be a different learning experience from the normal school day because of the nature of what is delivered. We need to be flexible and agile in these times.
Some good news to support you either working at home and/or studying at home - Spark, Vodafone, Vocus/Slingshot, 2Degrees and Trustpower have all advised they have removed their data caps and the possibility of any extra charges based on usage. Yay!
Staff Availability
Please be aware staff will have up to another 100 students to respond to during this time. Staff have agreed to be available in the normal period they teach each course ie: L1ENGE Period 1 Monday, Period 2 Tuesday etc. However, it may be that staff and/or their families become ill and this may impact on their ability to provide learning for a period. In this case other staff would cover but if several teachers in any one faculty become ill this might disrupt their provision. We would be in contact with you if this is the case. We naturally hope it will not occur. If your child is sick and cannot work, please let their teacher know by e -mail.
Concerns
A reminder we are still operating our normal flowchart for concerns, just contact via email

All email addresses are available on the school app and website - Contact Us
A big thank you to all of you for taking the lockdown so seriously. As the Prime Minister has noted staying at home will break the chain and save lives; breaking the rules could risk someone close to you and if the rules are not complied with, this could risk the lock down period being extended or could risk the virus being spread to thousands.
Information and resources to support wellbeing and support learning at home
· The Ministry of Education has developed a resource for parents, caregivers, whānau and family - http://education.govt.nz/school/health-safety-and-wellbeing/pastoral-care-and-wellbeing/talking-to-children-about-covid-19-coronavirus/.
· The Ministry of Health's website includes Top ways to look after your mental wellbeing during the Covid-19 lockdown.
· I AM HOPE is the youth and community focused support group run by The Key to Life Charitable Trust, started by Mike King - https://www.iamhope.org.nz/
· Nathan Wallis has some helpful videos on his Facebook page for parents and whānau - https://www.facebook.com/nathanwallisxfactoreducation/
· Tips on looking after mental health and wellbeing during COVID-19 from the Mental Health foundation https://www.mentalhealth.org.nz/get-help/covid-19/
· a website by the Health Promotion Agency to help New Zealanders recognise and understand depression and anxiety - https://depression.org.nz/covid-19/
Keep being kind, keep safe, and look after each other. We are all in this together, he waka eke noa.
Arohanui

Mrs Dionne Thomas
Principal
COVID-19 update 24 March 2020
Update 2
Kia ora koutou,
The Prime Minister announced yesterday in response to the Covid-19 pandemic all schools are to close for a period of 4 weeks. We appreciate this is a sudden and significant change and will be heavily disruptive to many people in our community. We also appreciate this brings a series of questions and I hope I can answer some of them with the following information:
School Closure
School is closed from Tuesday 24 March, except for children of essential workers. You may wish to check if you are considered an essential worker - https://covid19.govt.nz/government-actions/covid-19-alert-system/ however those roles include doctors, nurses, ambulance drivers and police. We continue to ask that children who are not well, do not attend school.
School grounds are out of bounds for all students, staff and community including fields, courts etc effective Wednesday 25 March midnight.
School holiday bought forward
School holidays are being brought forward so that they are completed within the 4 week period. Holidays will now begin on Monday 30 March through to Tuesday 14 April inclusive (a reminder that the Tuesday after Easter Monday is always a closed day for schools).
At the end of the school holidays, we will remain closed as the instruction to stay home (Alert Level 4) will continue beyond this new school holiday period and we will re-introduce the online learning. Teachers will be working offsite to deliver online.
Student Well-Being
Our initial focus has quite rightly been on the wellbeing of our staff and students. Please keep routines at home and ensure your children remain happy and connected. There is a great page on the Ministry of Health website on taking care of Mental Wellbeing - Wellbeing
Students first point of contact is their form teacher if they have any concerns.
If parents have concerns, they can contact the Year Level Deans (as indicated on the school app and website).
Isolation Groups
If you need to have your child cared for by someone other than those identified on our school records as 'caregivers' you will need to identify that person or people as part of your self-isolated group. This will need to be done by midnight Wednesday and the group must remain the same for the whole 4-week period. The caregiver's own group (eg, their partner and children), your child and your own group (eg, your parents and other children) become one group. This group needs to be limited to minimise any risk of spread and should be no more than 20 people.
School transport
All school buses and SESTA mobility services will run as normal on Tuesday 24 and Wednesday 25 March but only for students of parents working to provide those workers with time to make arrangements for their children
After Wednesday 25 March, no school transport will operate as schools will be closed until further notice.
NCEA Concerns
General NCEA advice is available through the COVID tile on the NZQA website's home page. NZQA will be adding to this information later this week and regularly. NZQA continues to work closely with the Ministry of Education to work towards minimising the disruption for students working towards NCEA.
Student Learning
We appreciated this may have been coming and remote learning processes are underway. Staff will be in contact with students in the next day or two. We have as a staff collectively come up with the following online guidelines to support staff and students during this time:
Online Communication Guidelines
Student contact will only be between the hours of 8am – 4pm;
Students can contact teachers in the period they are usually taught by them ie: L3 PE Period 2 Monday, Period 3 Tuesday etc;
Only school emails (no personal emails) are to be used.
Please be mindful online learning may not be as effective as face to face, but the priority must be student health and safety at this time.
Most telco's have removed data caps, but please check with your provider. Hotspot a phone to receive WIFI.
If your household will not have access to a device during the lockdown period please contact us today to see how we may be able to help.
Students Collection of Work
We are aware the students were not given a large amount of notice to take essential items from school to continue their learning remotely ie: Purchased maths workbooks, Art Portfolios, Tourism & Hospitality booklets. We would like to allow a collection for senior students to collect these. They are to come into school for this purpose only and then return straight home. Time and venues are:
Arts & Hospitality Tuesday 24 March 11-3pm VA1
Tourism Tuesday 24 March 11-3pm SSC1
Maths Tuesday 24 March 11-1pm Maths 1
Food & Fashion Tuesday 24 March 11-1pm TEC1
Students are not to come in if unwell.
As noted by the Prime Minister these restrictions are our best chance to slow the virus in New Zealand and to save lives. We all have a clear role here to slow the spread of COVID-19.

We will continue to communicate with you over the coming days so please ensure you regularly check your emails and the school website.
Thank you for your ongoing support of our school staff and school community. Be kind, keep safe, and look after each other. We are all in this together, he waka eke noa.
Arohanui

Mrs Dionne Thomas
Principal
COVID-19 update 23 March 2020
Update 1
The Prime Minister has announced this afternoon that in response to the Covid-19 pandemic all schools are to close. We are awaiting detailed information and direction from the Ministry of Education.
Tomorrow school will be closed, only open to provide for the children of essential service workers (Health Care Workers, Police etc.). If your child fits this category and will be in attendance tomorrow, please contact us at [email protected]
In the next couple of days, we will contact you regarding beginning possible future learning procedures.
Ngā mihi

Mrs Dionne Thomas
Principal
COVID-19 update 20 March 2020
Kia ora koutou whanau
With so much information and misinformation swirling around about COVID-19, I wanted to share with you what will happen if we were to have a case in our school community. We have been planning for this and are able to respond quickly:
As soon as a case is confirmed in our immediate school community (eg. a student, staff member, or member of their household), the Medical Officer of Health and Ministry of Education will inform me about this, and we will work together to get quick and clear messaging out to you.
If there was a case confirmed of someone in our school, we will likely be asked to close temporarily by the Medical Officer of Health. This will allow time for close contacts to be traced, appropriate testing to be undertaken, and a careful clean of the school to be undertaken.
If our school does need to close temporarily, staff are putting plans in place to support student's learning.
We know COVID-19 feels scary and of course people are concerned for the wellbeing of our children. Please be assured that with no case confirmed in our school, your children are safe here.
Good hygiene is a priority at our school, and we are reinforcing this regularly with all students and staff. We know that practicing good hygiene is still the best thing we can all do to prevent illness.
We are getting the most up to date advice and guidance so that we can confidently make informed decisions about the safety and wellbeing of our school community.
We have created a dedicated COVID-19 page on our website and will update this with pertinent information. I urge you to ensure you have the school app on your phone, selected to receive notifications and check the website regularly to be aware of any new updates.
Keep safe.
Ngā mihi

Mrs Dionne Thomas
Principal
From the Ministry of Education:

COVID-19 update 18 March 2020
You will be aware the Ministry of Health's Director-General has confirmed a case of COVID-19 in a Dunedin school following a student testing positive for coronavirus.

On advice from the Southern District Health Board the school will now remain closed until Tuesday (Monday being Otago Anniversary Day). Close contacts have been identified and are being tested for the virus. The letter to the community from SDHB provides further information

The Ministries of Education and Health are working closely with Public Health services in Dunedin and the school leadership to help minimise disruption, progress contact tracing and reduce the possibility of spread.
Reminder – schools remain open

At this stage, we are not expecting widespread school closures. We are planning for temporary closures, like what is happening at Logan Park School but as the World Health Organisation has confirmed, the risk to children remains low and parents should continue to send their kids to schools and early learning centres.

Consequently any decisions about school closures will be made on a case by case basis. In the meantime, unless students are unwell themselves, then parents should keep sending them to schools and early learning centres as these environments continue to be safe and the best place for them to continue their learning.

Talking to children and young people about COVID-19
Given the rise in the number of reported cases, there may be children or young people in your life who experience distress. As a trusted adult, you can help reassure and educate them about COVID-19 – it can be good to talk to them now, so they can understand the illness and be reassured.

A useful resource for parents, caregivers, whānau and teachers talking about the virus with children and young people can be found here

This can also be downloaded as an information sheet.
Up-to-date information and advice
A reminder that information and advice for students, whānau and the education sector is available here

While the website is being regularly updated with education-related content, the Ministry of Health is the Government agency leading the response to COVID-19

The Secretary for Education joined the Director-General of Health for the Ministry of Health's COVID 19 update today. You can view that, and all Ministry of Health updates here.