A Brief History of Karamū High School
Karamū High School was opened in 1962, the city of Hastings first co-educational high school and came at a time when the city and its suburbs where undergoing significant growth.
The school's name was derived from the Karamū tree Coprosma lucida. This tree had great significance in early Maori religion. It symbolised life and all the goodness in the earth and mankind. It also had the power to cleanse both spiritually and mentally. Currently the school has numerous Karamū trees forming a hedge which surrounds the main student recreation area.
The school opened with 8 staff and 175 pupils, it reached its peak in 1974 with 70 staff and 1,339 pupils. In 1975, Havelock North High School was built to service the Havelock North community and this eased the overcrowding at Karamū. In the 1990's Flaxmere College was opened to serve the Flaxmere community and today Karamū has a stable roll 900 pupils and a staff of 90.
The school's motto, Knowledge Is Strength He Mana tā Te Mātauranga emphasises the important role knowledge plays in a strong and successful life and is the basis of good citizenship.
In 2009 the Ministry of Education announced that a 8 Million dollar modernisation project would take place at Karamū which was officially opened at the 50th Jubilee celebrations in 2012.
Tira Ora
'Tira Ora' is the name given to the branchlet of the Karamū tree, so an ideal name for branchlets or students of Karamu. This will also be the name given to the Alumni Association to be formed in the near future.
Each Newsletter from 2020 has a section where news of Karamū alumni will be shared so if you have news of ex-students that you are willing to share please email [email protected]
Tira Ora alumni registration is available here.
Past Principals
During the past fifty years Karamū has had seven Principals (incl current):
Mr N Wilde, B.A. M.Sc. (Hons) – 1962 - 1971
Mr R D McGarvey, M.A. – 1972 - 1985
Mr M J Lewis, M.Sc. – 1986 - 1999
Mr M J Purcell, B.A., Dip.Spec.Ed., M.Ed.(Cant)., M.Ed.Admin - 2000 - 2008
Mr M J O'Grady, B.Agr., PGDipEdAdminLead. – 2008 - 2015
Mr M Leitch, B.Ed., Dip Tchg. - 2016 - 2019

Mrs D Thomas, M.Ed Admin & Lead., B.Ph.Ed.

, Dip Tchg. - 2020 - current
Past Pupils
Prominent past pupils of Karamū High School include:
Hon. David Butcher – Politics
Dr Karen Cooper – Science Research
Mr James Griffin – NZ Film and TV
Sir Paul Holmes – Broadcasting
Mr Jonathan Krebs – Law
Ms Mojo Mathers – Politics
Mr Jacob Scott - Artist
Ms Annah Stretton – Clothing Design
Mr Ngahiwi Tomoana - Ngati Kahungunu Iwi Chairman
Mr Peter Waddell – Art
Ms Meka Whitiri - Member of Parliment for Ikaroa Rawhiti
Mr Mike Williams – Politics
Sculpture Sponsors
Platinum Sponsors
Tumu Timbers (O'Sullivan Family)
Furnware
Jacob Scott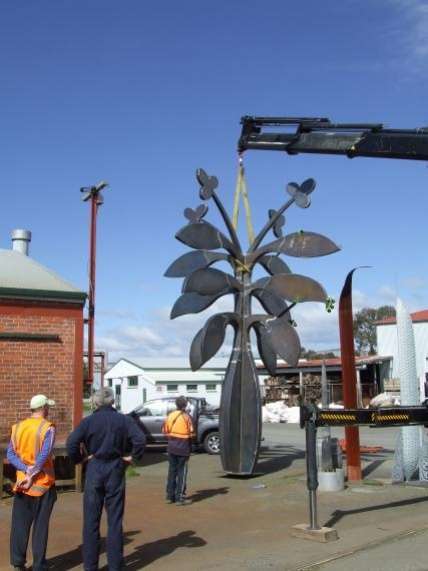 Dr Les Buckley
The Hastings Landmarks Trust
Gold Sponsors
June & Don Clark Clothier Family O'Grady Family
Chris Wiffen Hastings Pakn'Save (Pam & David Smith)
Dr William Thompson Gary Pidd Architects
CNC Profile Cutting Best-Forsyth Electrical
Shannon Bray Landscape Architect Ltd Bridgeman Concrete
Strata Group Consulting Engineers JMC Concrete Placing (H.B.) Ltd
Mantell-Harding Earthworks Panton Plumbing Ltd
Gearey Painting Co Karamū High School Staff & Students 2012
Silver Sponsors
Kim Baker Margaret Bendall Janice Critoph Rangi Daymond
Narelle De Frere Dave & Alison de Lange Heather Gregory
Koreen Hall Graeme Higgins Paul Houston Pei Huang
Simon Jones Chris Loveder Family Jeff Lynex Barbara MacLean
Rob McDonald Bob McGarvey Gorham Milbank
Rodney Tregerthan Michael Paul Raymond and Megan McLaren & Family Ross, Viv & Rebecca Hantler Aaron & Shane Hantler
Wayne Wooster Margaret Standing Christine Lissette John Mason Iain Taylor Tracy Taylor Ben Taylor Kezia Taylor Leonie Bennett
Vivienne Olsen Glenys Coughlan Sharon Nelson-Kelly Carl Allen Tina & Jordan Travers Tom, Fiona, Adam & Ashley Blake
Hastings Demolition Ltd Pixel Power Ltd Jo Morris & Murray Harty and Family Bruce Ralston Byron Roff Matthew Strickland Phillipa Tibbles
Etch-it Bronwyn & Hilary Morgan Holden Family William Thompson Christine Ingle & Family Kukri NZ Ltd